"A Little Help!"
This article or section may be lacking information, need the grammar and spelling checked, or some other help. Help Pucca and her friends expand this article.


Help this wiki by editing this article or section!
Ssoso Palace is the peace palace of Ssoso where people with bad mood go and settle down. It appeared in the episode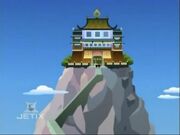 Peace Out
but is destroyed by
Abyo
making Ssoso angry for the first time. Its presumed that the palace can be his house or was his house. It is located on the top of a mountain.
Ad blocker interference detected!
Wikia is a free-to-use site that makes money from advertising. We have a modified experience for viewers using ad blockers

Wikia is not accessible if you've made further modifications. Remove the custom ad blocker rule(s) and the page will load as expected.