Sooga Super Squad
Season 3, Episode 19, Part 2
[[|250px]]
Air date
July 17, 2008
Written by
Johnny John-John Kearns
Directed by
Dan Hughes
Episode guide
Previous
Double 'A' Attack
Next
Tame That Toon
Plot
When Master Mel is accidently released, he enacts revenge on his brother Soo and plans to take over Sooga. To stop him, Soo summons Pucca, Garu, Ching, and Abyo to be the Sooga Super Squad.
Sooga Super Squad
Sooga Ranger Red: Alter ego: Pucca. Her uniform is red and white. Her symbol is a heart.
Sooga Ranger Blue: Alter ego: Garu. His uniform is red and blue. His symbol is a blue shuriken.
Sooga Ranger Pink: Alter ego: Abyo. His uniform is pink and white. His symbol is a fist.
Sooga Ranger Yellow: Alter ego: Ching. Her uniform is yellow and white. Her Symbol is a flower. Won is incased in Ching's helmet.
Characters
Protagonist Characters
Antagonist Characters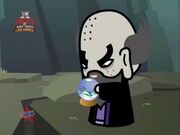 Villains
Master Mel: is the villain and his use his power to control Sooga
Mel's Belles: Master Soo's maidens transformed into henchmen by Mel to do wreak havoc on Sooga
Gallery
Ad blocker interference detected!
Wikia is a free-to-use site that makes money from advertising. We have a modified experience for viewers using ad blockers

Wikia is not accessible if you've made further modifications. Remove the custom ad blocker rule(s) and the page will load as expected.