is the magic wand that uses a santa in the episode Abra ca pucca open when santa is is absorbed by the hat pucca takes the wand to enchant garu but does not work and ends enchanting Abyo . ching want to make that abyo fall in love with her with the magic but fails while pucca try yo use the magic to try to rescue garu but the magic is over and all the village become rabbits.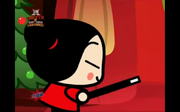 Ad blocker interference detected!
Wikia is a free-to-use site that makes money from advertising. We have a modified experience for viewers using ad blockers

Wikia is not accessible if you've made further modifications. Remove the custom ad blocker rule(s) and the page will load as expected.