"A Little Help!"
This article or section may be lacking information, need the grammar and spelling checked, or some other help. Help Pucca and her friends expand this article.


Help this wiki by editing this article or section!
Is hat that santa used on the episode Abra ca pucca to used in a magic show but the hat absorbs garu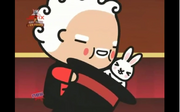 and santa
inside of the hat there are a world where many rabbits are.One of them falls in love with garu while the others hate santa.