"A Little Help!"
This article or section may be lacking information, need the grammar and spelling checked, or some other help. Help Pucca and her friends expand this article.


Help this wiki by editing this article or section!
The Santa Candy Noodles are a candy noodles cooked by
Santa
. It first appeared in the episode
Feud Fight
. Pucca was the firts costumer to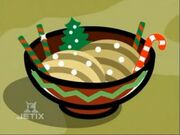 try the noodle. The noodles didn't really taste good to
Pucca
because of the mixture of noodles, candy, and the soup. Santa made this noodle because
Uncle Dumpling, Ho and Linguini
were in a fight and they refused to make noodles which lead
Santa
to make his Santa Candy Noodles.
Ad blocker interference detected!
Wikia is a free-to-use site that makes money from advertising. We have a modified experience for viewers using ad blockers

Wikia is not accessible if you've made further modifications. Remove the custom ad blocker rule(s) and the page will load as expected.