"A Little Help!"
This article or section may be lacking information, need the grammar and spelling checked, or some other help. Help Pucca and her friends expand this article.


Help this wiki by editing this article or section!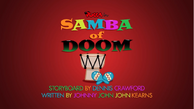 Samba of Doom
is the episode 29c of the Pucca
TV series
.
Samba of Doom
Season 3, Episode 3, Part 2
[[

|250px]]
Air date
March 14, 2008
Written by
Johnny John-John Kearns
Directed by
Dan Hughes
Episode guide
Previous
Break My Day
Next
Pucca's Fishy Tale
Plot Summary
Pucca and the gang go on a trip to Brazil, and joins a samba contest.
Trivia
The episode takes place in Brazil, Rio De Janeiro.
Errors
Soccer is British, not Brazilian.
When all Brazil is shown at the beginning, the Rio De Janeiro statue is missing.
When Pucca gasps for watching Garu and Soso dancing cappoeira, there is a man making sand castles. In the close-up of Abyo, the man disappears, the man reappears when Abyo begins to dance cappoeira.
When Brazil parade begins to parade, Pucca is on the right and Ching is on the left. When the camera zooms they swapped places.
When Brazil parade begins to parade, there are men playing drums in a horizontal line. But in the next scene, the men are in a vertical line.
Ad blocker interference detected!
Wikia is a free-to-use site that makes money from advertising. We have a modified experience for viewers using ad blockers

Wikia is not accessible if you've made further modifications. Remove the custom ad blocker rule(s) and the page will load as expected.