Synopsis
Ring Ring decides to sabotage Pucca's party after her's was on the same night .
Ring Ring's Party Favours
Season 1, Episode 15, Part 2
[[

|250px]]
Air date
December 1, 2006
Written by
Colin Yardley
Larry Raskin
Storyboard
Marlon Deane
Episode guide
Previous
Noodle to the Stars
Next
Misplaced Face
Summary
Ring Ring has a TV commercial to invite guests for her party, but excluded Pucca for no reason. Because of this, the chefs hands out invitations for a party on Pucca's behalf, and the guests come to Pucca's party instead.
When hearing this (and not knowing she had been invited), Ring Ring tries to sabotage Pucca's party three times but it backfires each time and everyone adores it. Yuni pesters Ring Ring with an envelope containing her invitation each attempt, but she shoos Yuni away. Ring Ring gets angry when she sees that the guests are happy for the last time, and after several attempts to sabotage Pucca's party, eventually has a meltdown, turning autistic. Pucca and Ring Ring fight with each other, ending with Ring-Ring using a high E to explode the Goh-Rong, Pucca's hair bands snap off in theprocess. The final attack is both girls pulling each other's hair. Yuni comes up to Ring Ring, who finally opens the letter, and found out that not only had she been invited, but Pucca had even tried to make sure she didn't have her party on the same night..
Feeling guilty, Ring Ring uses the hot sauce to make everyone dance and have fun again.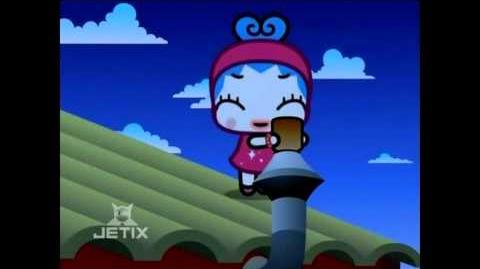 Gallery
Ad blocker interference detected!
Wikia is a free-to-use site that makes money from advertising. We have a modified experience for viewers using ad blockers

Wikia is not accessible if you've made further modifications. Remove the custom ad blocker rule(s) and the page will load as expected.