"A Little Help!"
This article or section may be lacking information, need the grammar and spelling checked, or some other help. Help Pucca and her friends expand this article.


Help this wiki by editing this article or section!
Queen Termite is shown in the episode
Chop Chewie
.She falls in love with Garu when he sees him with his Viking costume, thinking that he is a termite too. Sh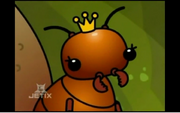 e has the ability to throw balls of spit to stop any intruders.
Ad blocker interference detected!
Wikia is a free-to-use site that makes money from advertising. We have a modified experience for viewers using ad blockers

Wikia is not accessible if you've made further modifications. Remove the custom ad blocker rule(s) and the page will load as expected.