Pucca n' Friends is an app that can be played on either IOS, iPhone, or Android. The gamer is set in Pucca's family restaurant. The player can make recipes, decorate the restaurant, gain Garu Points and Gold Coins.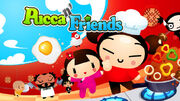 Characters
Linguini
Uncle Dumpling
Ho
Mio 
Yani
Dada
Bruce
Chang
Ring Ring
Ssoso
One of Tobe's Ninjas
Clown 
Chief
Shaman
Socrates
Gallery
Ad blocker interference detected!
Wikia is a free-to-use site that makes money from advertising. We have a modified experience for viewers using ad blockers

Wikia is not accessible if you've made further modifications. Remove the custom ad blocker rule(s) and the page will load as expected.