Pucca Power Up



Platform:

NDS

Category:

Platform Games

Release:

September 13, 2011

Players:

1
Rising Star Games brings a new game starring the famous Pucca.
Game
Pucca is Power Up, a platform game for DS in which we go through several stages and can play both as fellow Pucca Garu. During the adventure, we will be collecting hearts and, between the super powers available, we can make a giant Pucca.
The game features six episodes, plus a mini-game where our mission is to try to kiss Garu who, once again, will flee in terror at the thought of being kissed by Pucca. Pucca Power Up also includes another mini-game known as jumping off the cliff.
Pucca's new adventure, this time makes the leap to the Nintendo DS <, is scheduled for European release in early 2011, but soon will make its debut in South Korea's hand Baruson Creative.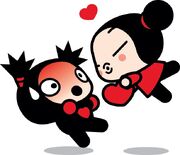 Pucca Power Up features six episodes following central characters Pucca and Garu through their adventurous love story. This quirky mismatch between the daughter of a noodle seller and a ninja challenges players to help Pucca and Garu on their quest for true love. Players will also learn new skills from Master Su and complete mini-games such as Kissing Garu and Jumping off the Cliff.
Features
Storyline and comedy direct from the creators of Pucca
Six electrifying chapters where you can play as both Pucca and Garu
Chase down Garu as Pucca, using weapons and tools often seen in the animated episodes
Avoid Pucca as Garu, using all his ninja skills and weapons
Engrossing mini-games, selectable from the main menu and appearing in-game
Features memorable characters from the series, including Master Su - the mysterious old man who acts as your teacher.
Trivia
Is not confirmed, but in the game there is a clip where Garu's father appears only as a silhouette and is fighting with Tobe or Tobe's Father. In this clip Garu is just a little boy.
It will release in the USA in 08/09
Main Characters
Garu's father(Not confirmed)
Gallery
External links
Ad blocker interference detected!
Wikia is a free-to-use site that makes money from advertising. We have a modified experience for viewers using ad blockers

Wikia is not accessible if you've made further modifications. Remove the custom ad blocker rule(s) and the page will load as expected.