It's No Use Running, Service Has to Be Done Right!
Make sure the frantic fun doesn't melt your noodle in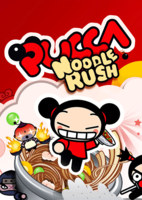 the time management game spectacular starring beloved cartoon icon Pucca.
The latest video game based on the global smash Pucca franchise sees the inimitable Pucca take on the restaurant business, with spectacular results!
What happens when the irrepressible Pucca swaps kiss-chase with Garu for the restaurant trade? It's the kind of furious-paced ninja-fuelled fun that only Pucca can deliver, as she leaps into the fray to save her uncle's noodle restaurant when a tough rival opens up across the street. All of Pucca's boundless energy is redirected into winning the culinary war, by offering impeccable service and smartening up the restaurant to win the hearts, mind and stomachs of the stream of demanding diners. They want great food… and they want it fast!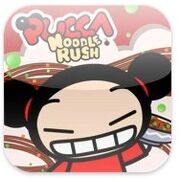 Fastest Noodles in Town
You control Pucca who is in charge of customer service, which means seating customers, taking orders, serving up, clearing tables, pocketing the cash and chasing away the ninjas hired by meddlesome rivals. Nothing's ever that simple though, and Pucca has to move even faster than when she's chasing the long-suffering Garu to win the day. There are countless split second decisions to make when seating customers: prioritise friends, loyal customers, and take rivalries and thorny personalities into account to avoid trouble. And if anyone is kept waiting, it could be the final noodle for Pucca and her uncle!
Pucca's Personal Touch
Once you get the hang of it, Pucca's pristine performances on the restaurant floor will let you buy decorations, more tables and other new items to smarten the place up. You need more than just the service of a ninja to keep the customers satisfied!
Friends and Foes
A host of familiar characters from the Pucca universe, including Abyo, Ching, Ssoso and of course Garu, will show their faces along the way, either to lend you a helping hand or to try to throw a spanner in the works. Either way, the customer is king, and Pucca can't let anything distract her from her task!
Don't be a noodle – download Pucca Noodle Rush, soon available on Nintendo DSiWare™!
Trivia
The game is like a version of Dinner Dash
Gallery