"A Little Help!"
This article or section may be lacking information, need the grammar and spelling checked, or some other help. Help Pucca and her friends expand this article.


Help this wiki by editing this article or section!
Ninjitsu for Dummies
Season 1, Episode 11C
[[

|250px]]
Air date
December 15, 2006
Written by
Johnny John-John Kearns
Directed by
Dan Hughes
Episode guide
Previous
Special Delivery
Next
Misplaced Face
"Ninjitsu for Dummies" is the third segment of the eleventh episode of the television show Pucca. It first aired December 15, 2006.
Summary
Abyo wants to win a fight with Garu but he always loses. He goes to the library to search for a book that he thinks that Garu uses to win any battle.
Pucca uses that book to make another ninja book but this one has love techniques. Abyo finds Pucca's version of the book but doesn't realize it.
Abyo tries the moves in the book, but instead of cheering, there is laughing everywhere.
Someone steals Pucca's book, and then Pucca gets angry.
Pucca then gives the book to Garu.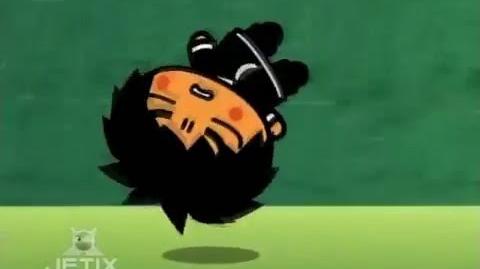 Gallery
Ad blocker interference detected!
Wikia is a free-to-use site that makes money from advertising. We have a modified experience for viewers using ad blockers

Wikia is not accessible if you've made further modifications. Remove the custom ad blocker rule(s) and the page will load as expected.