"A Little Help!"
This article or section may be lacking information, need the grammar and spelling checked, or some other help. Help Pucca and her friends expand this article.


Help this wiki by editing this article or section!
J.P. is a stylist who appears in episode
Fab Abyo
in search of the chosen. He dominates the Stylist Fu.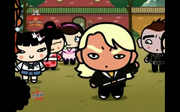 His friends are Starla and Mister Zoom.
Trivia
He is a parody of Jay Alexander of America's Next Top Model.