Arrows used by Cupid to force people to fall in love. In the episode
Evil Love
one such arrow accidentally struck Tobe and forced him to fall in love with Chief, going on several dates and almost getting married. Pucca, desiring such an arrow for her own purposes, removes it from Tobe and uses it on Garu to get a kiss from him.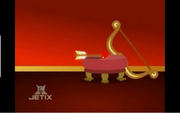 Gallery
Ad blocker interference detected!
Wikia is a free-to-use site that makes money from advertising. We have a modified experience for viewers using ad blockers

Wikia is not accessible if you've made further modifications. Remove the custom ad blocker rule(s) and the page will load as expected.