Cupid makes an appearance in the episode "
Evil Love
." He arrives into the
Goh-Rong
after a hard day at work, firing his love arrows, and sits down with the other holiday characters (
Santa
and the
Easter Bunny
) to complain about their jobs.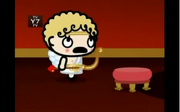 An accident by the Cat Clan causes his final arrow to accidentally strike Tobe who immediately falls in Love with Chief (who had actually been wondering how she could get his attention). After Tobe expresses these new feelings for the Vagabond leader (and subsequently runs away in confusion), Pucca approaches Cupid with a request to cast the same love spell on Garu. Cupid tells her he's sorry, but he has no other arrows to use. Pucca becomes enraged and, after grabbing him in anger, fires him across the room using his own bow.