"A Little Help!"
This article or section may be lacking information, need the grammar and spelling checked, or some other help. Help Pucca and her friends expand this article.


Help this wiki by editing this article or section!
This is the treehouse which
Abyo
and
Garu
built in the episode 'Man of the Tree House'. It is very poorly built.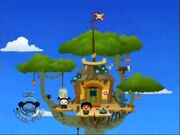 The treehouse has a no girls allowed sign at the entrance. It has a weak wooden balcony platform with a small house made from multiple materials varying from wood to metal. The house on the platform has a flag coming out of the top of it. The flag has a picture of a skull with crossbones. The balcony also has an old punching bag hanging down from one of the branches of the tree and a wooden ladder is used to climb it. The whole treehouse is supported by wooden planks.
Inside the treehouse it is extremely filthy and is lit with candles. There are posters on the walls, a shelf, a table, a box full objects, books scattered across the floor and a dirty fridge that seems to be leaking. The treehouse roof is not waterproof as all the rain water flooded the inside of the treehouse. The treehouse is strong enough to float in space.
Plot
After Garu is once again hiding from Pucca (and Abyo has been injured during their chase) the boys decide that they need a place of their own and construct this treehouse while forbidding Pucca and Ching to enter, being girls. in retaliation, the girls build their own tree house which is much better than the boys' and continuously flaunt it over the males. While Abyo, Garu, and Mio try to make the best of things, they eventually concede that the girls have a better building and desire to use their dojo. Their antics eventually cause them to accidentally destroy Pucca and Ching's treehouse and the girls demands that now the boys must share their own. They attempt to deny this, but Pucca angrily lassos their tree and yanks it to the ground, causing them to change their minds. The girls happily enter the treehouse but as Garu attempts to escape from the window, Pucca releases the tether she had made and the boys' treehouse is launched into outer space. Ching remarks that it has a much better view than their own treehouse did.
Gallery
Ad blocker interference detected!
Wikia is a free-to-use site that makes money from advertising. We have a modified experience for viewers using ad blockers

Wikia is not accessible if you've made further modifications. Remove the custom ad blocker rule(s) and the page will load as expected.